Rocket Espresso Machine Buying Guide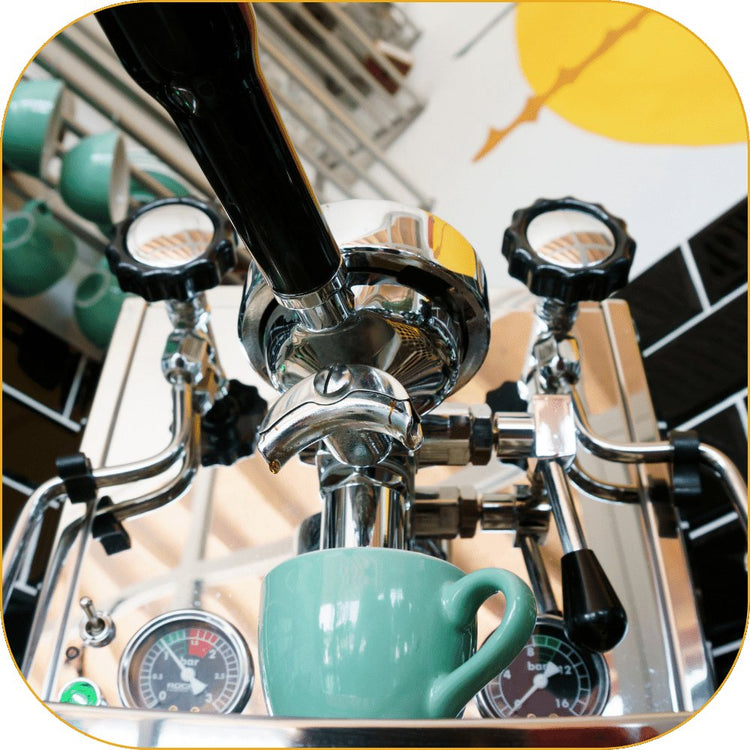 Rocket Espresso is an Italian brand with a long tradition of fine design and construction. The Giotto, Rocket Espresso's original home machine, forms the basis of every Rocket Espresso machine. Using a combination of modern technology and classic design, Rocket Espresso has continued to innovate since 2010. It's traditional handcrafted machinery with cutting edge features that can both be used in the home or in the commercial environment.
Rocket has a ton of incredible machines to choose from. Which can make it difficult to choose the right espresso machine for you. Below we will go over some of the key features of each unit.
What do they all have in common?
Before we discuss the differences, let's go over the key features each Rocket espresso machine has in common.
Every Rocket has these key features:
E61 grouphead.
Insulated steam wands.
Hot water spout.
Stainless steel casing.
Auto-volumetric dosing (Commercial units only).
Shot timers (Commercial units only).
Auto-backflushing (Commercial units only).
Programmable pre-wet settings (Commercial units only).
Hot water mixing valve (Commercial units only).
Rocket Appartamento Espresso Machine
Stylish, professional, and compact, the Rocket Appartamento delivers authentic coffee with a small countertop footprint. It is the perfect solution for the prosumer who wants the whole package. Built with commercial components, this Espresso machine honors the art and science of espresso, with its fine stainless steel housing. It can be displayed in any home, office, or business to be appreciated by all. By using the efficient heat exchange boiler, users can both pull an espresso shot and steam milk simultaneously. Made of copper, the copper boiler is naturally antimicrobial, making it safer to use. The gauge monitors the pressure in the boiler and lets you know when it is ready to use.
Key takeaways:
This entry-level to Rocket is great for anyone looking to get a professional-grade machine for their home. It comes in the classic stainless steel case or the new black powder-coated Nera models. You can also choose between copper and chrome inserts to match your kitchen's aesthetic.
The Appartamento has a vibratory pump that allows you to pull water from the internal tank. Vibratory pump units cannot be plumbed in.
A heat-exchanger, this unit works from a single boiler with a line running to the group that allows you to brew and steam at the same time. It's also much easier than a single boiler!
Rocket Mozzafiato & Giotto Espresso Machine
Both units strike the perfect balance between a vintage aesthetic and the latest in modern technology with a wide range of brewing capabilities. It comes packed with features that improve thermal stability, energy and power efficiency. It provides generous steaming capacity and a programmable PID control for steam temperature, enabling it to compete with even the most superior commercial models, both in terms of performance and consistency.
Key takeaways:
Building on the Appartamento, these two models share the same features in two different body styles.
The Type V's add an additional pressure gauge for measuring the pump pressure, boiler insulation to save electricity, a low-profile PID to adjust the boiler's temperature and a shot timer.
The Evoluzione R machines upgrade the pump. Instead of operating from a vibratory pump, they tout rotary pumps to ensure durability and add the option for plumbing your machine in, directly to the source.
Rocket R58 Cinquantotto Espresso Machine
Overall Rocket Espresso's classical dual boiler platform gets an updated PID controller, a mini shot timer, a cup rail, and legs with the R58 Cinquantotto. With the new PID, one can now control the machine with touch-screen controls and set the machine to automatically illuminate without touching the screen while maintaining its vintage look.
Key takeaways:
This dual boiler takes coffee prep to the next level. A dedicated boiler for brewing and for steaming increases the temperature consistency from shot to shot and improves the capacity of what your machine can handle.
This model also has an upgraded touchscreen PID. It features an automatic on and off calendar so the machine is ready to go whenever you are! You can set the machine to turn on and off up to twice a day for every day of the week.
This model also offers and ECO mode in lieu of the calendar to turn off after 90 minutes of non-use.
Rocket R Nine One Espresso Machine
The Rocket Espresso R Nine One combines quality and technology. Built with the most advanced home espresso machine in mind, the Rocket Espresso R Nine One includes a saturated group, stainless brew and service boilers, and a programmable dosing system. With the R Nine One, you can choose from both manual and programmable pressure profiles, providing you with 5 profiles to choose from for any coffee recipe you can imagine. You can set profiles using the R Nine One's color touchscreen, or you can use the group-mounted control knob to set profiles manually. The machine has class-leading features, such as power scheduling, temperature management via PID controller, and a full-stainless case and frame.
Key takeaways:
The next generation in pressure profiling machines, the R Nine One is the most unique Rocket unit on offer. It's the only machine that uses a saturated brew group instead of the traditional E61.
This machine has massive stainless steel boilers and a rotary pump. This unit performs best when plumbed in, but can be used from the tank. When plumbed, it has the feature to adjust temperature of the hot water spout like the Rocket Espresso commercial models.
The machine electronically controls the variable speed pump to adjust the pressure on this unit. You can adjust the pressure manually with the brew paddle or within the five profile settings given.
What makes this machine unique to any other machine in its class is the ability to manually control the pressure of a shot, record it, then replicate it. Making the perfect shot repeatable every time.
Rocket Boxer Espresso Machine
The Boxer Timer is designed with a variety of time-saving features, including volumetric controls, shot timers, and insulated steam wands. It also comes with convenient maintenance controls. In addition, its compact size and all-chrome case make it accommodating no matter what type of shop or café you have.
Key takeaways:
The Boxer is a heat-exchanger, so it has one boiler for steaming and brewing. This is usually a good fit for coffee shops that don't have coffee as their main focus, like bars or restaurants.
The two group is popular for bakeries or applications that may sell coffee in short bursts. It works from a pressure stat, so the temperature can't be adjusted by the average user.
Rocket RE Doppia Espresso Machine
A large boiler and saturated groups make the RE Doppia a great brewer that offers great thermostability for a fair price. A programmable PID controller, along with the boiler's robust capacity and sensitive transducer setup, enable this high-capacity brew circuit to produce stable details of temperature and brew time. Added features such as volumetric shot programming, easy-access steam handles, insulated steam wands, and automated backflushing enhance the RE Doppia's high-volume capabilities.
Key takeaways:
The Doppia then upgrades you to the dual boiler design and has the ergonomic steam wand levers instead of the knob turn style of the Boxer. This unit is better for coffee focused locations.
The dual boiler design provides the user with more control over the temperature of the water contacting the coffee with intuitive PID controls.
Rocket R9 Espresso Machine
Rocket's R9 espresso machine allows for individual control of each brew group. With 1.9-liter boilers, PID temperature control, shot timers, and automatic control clusters, each group head runs on its own. The massive steam boiler in this unit is equipped with sensitive pressure transducers that aid in reducing recovery times during your busiest mornings. Rocket Espresso comes with its rugged polished steel casing to cover the service-ready design of the internals.
Key takeaways:
The R9 goes a step above the dual boiler system by having individual boilers for each group. So theoretically, you could have each group set up to a particular temperature for two coffees.
This machine will be the most temperature consistent from shot to shot and has an easy to use button interface.
Summary
No matter what you want in an espresso machine, Rocket has you covered! If you have any questions at all, drop a comment below or email us at Info@ComisoCoffee.com.
Want to learn more?
Check out our latest articles