10 Best Commercial Espresso Machines For 2023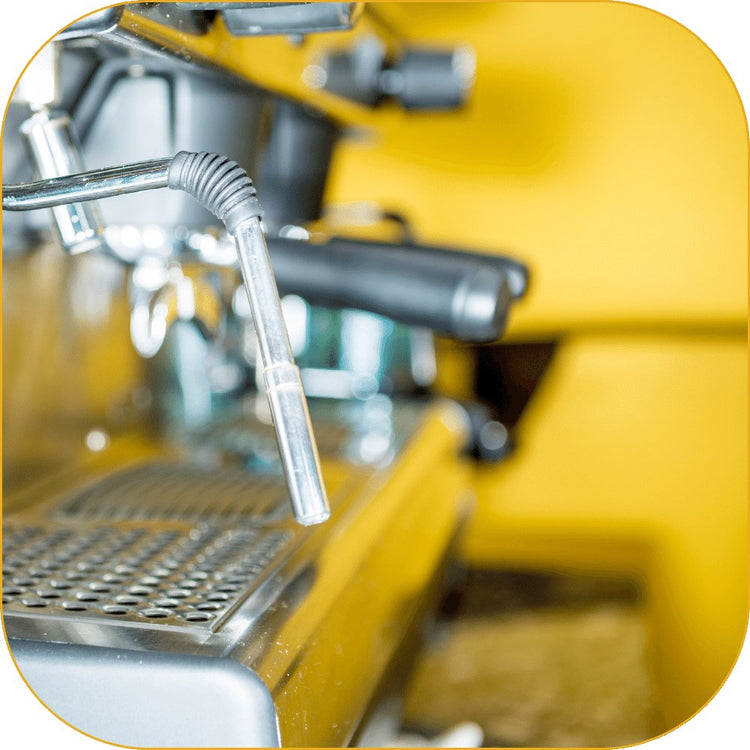 One of the biggest pain points for any coffee-serving venture is the purchase of the all-important espresso machine. An incredibly important decision that isn't always as straightforward as it should be. Having served thousands of businesses, we understand how intimidating this choice can be. Which is why we've compiled this list of our top 10 picks for a commercial espresso machine.
To make your choice easier, we've broken down our picks into the following sub-categories:
Best picks for low-volume coffee shops.
Best picks for a coffee catering or food truck business.
Best picks for limited space.
Best picks for mid-volume coffee shops.
Best picks for high-volume coffee shops.
Best picks for low-volume coffee shops
Built to impress, this espresso machine produces top-notch espresso for commercial environments. Made of quality steel and aluminum, this machine features easy-to-use volumetric dosing technology that can be personalized via an LED button interface.
From a design perspective, the Undici features a relatively small footprint, especially for the commercial espresso machine market. This adds a layer of convenience for most coffee shops and without sacrificing quality features. Also ideal for office break rooms, or living facilities, this machine creates quality espresso that all of your patrons are sure to enjoy. Its fixed-nozzle thermosyphon system ensures excellent temperature control to produce consistently impressive cups of espresso. Serving consistent coffee is paramount to securing repeat business, as customers can trust that their first cup of high-quality espresso is just the first of many.
In addition to its rotary pump, which sits on shock absorbers, so it's very quiet, this Italian espresso machine offers volumetric dosing, as well as the option to drain directly into the drip tray. A 15 amp 110 volt circuit is required and it must be plumbed in. Ruveco Tek coating protects the copper boiler and ensures energy efficiency while also preventing heat loss.
A brand-new three-hole steam tip with smaller holes has been added to this La Cimbali espresso machine. This makes it easy to achieve micro foam even when doing small amounts of milk. Other newly-added features include passive pre-infusion, dual gauges, and a new passive pre-infusion device.
Best picks for a coffee catering or food truck business
Designed for spaces with low consumption, the Marina espresso machine is small and powerful. High-quality, professional components have been incorporated into its compact stainless steel structure.
Working with Fiamma's static pre-infusion chamber and the classic single-boiler system. Equipped with a vibratory pump and featuring a 2.5 water tank and drain, this plug-and-play model extracts superior coffee without water connections. Making the Marina an ideal choice for coffee-serving environments that must maintain mobility.
The Dream espresso machine is built commercially with a modern flair, making it stand out from all the more traditional espresso machines on the market.
It also comes in two variations, the Dream T being the model ideal for catering. The Dream T is a tank-only model perfect for when portability is key. There is no doubt that the La Spaziale Dream T espresso machine is one of the most technologically advanced of its kind. With its newly designed programmable touchpad and stainless steel front panel, the Dream T is the wave of the future for coffee lovers around the world.
Best picks for limited space
In the evolution of the Ascaso catalog, the Baby T Plus espresso machine model is the ultimate espresso machine experience. Whether it's for a café, food truck, office, or home kitchen, the compact and modern style fits perfectly! Featuring the same technology and features as the fully-commercial Barista T Plus, the new Ascaso Baby T Plus espresso machine has the advantage of a compact footprint.
In addition to its reliable and remarkable thermal stability and advanced energy efficiency, the Ascaso Baby T Plus espresso machine can be trusted in just about any professional environment.
La Spaziale's S11 Brio espresso machine was designed with ease-of-use in mind as one of the most technologically advanced espresso machines on the market. This professional machine can be set independently and with extreme accuracy.
Among the many reasons why the S11 Brio espresso machine is popular is that it is equipped with a touch screen that can be used to access multiple functions, including timers, programs, counters, etc. The machine can also monitor the extraction and suggest changes in grind.
It is equipped with a seven-day programmable timer, so you can use it whenever you want. Once it is turned on, it remains warm and ready to use. Using it is incredibly easy thanks to the volumetric shot and temperature controls. Dual-boiler technology makes this machine suitable for making both espresso drinks and milk-based beverages.
Best picks for mid-volume coffee shops
The M26 commercial espresso machine is so versatile and so easy to use that you will be amazed! Made from stainless steel and ABS, it's more than just an attractive design. The ergonomic design, versatility, and ease of maintenance puts it at the top of our list! Its technical advantages guarantee perfect cup quality and reduce operating costs.
There are many features on the La Cimbali M26 machine that can be found on commercial espresso machines that cost much more. As an example, you will be able to control the temperature of each group's brew boiler individually. Equipped with the reliable La Cimbali Thermal System. Even the smallest temperature fluctuation can change the taste of a drink.
It is a heat-exchanger machine with a large boiler that can handle busy rushes. On most heat exchanger machines, the brew temperature is too high. To reduce the brew temperature on most commercial machines, you have to run long cooling flushes. This won't be an issue with the M26. The M26 has a cold water mixing valve, which reduces the brew temperature for each group. It therefore eliminates the need for lengthy cooling flushes.
Some functions of the M26 machine are maintained by the Cimbali Economizer. The Cimbali Economizer is available in all non-compact models. There are additional controls, such as dates and service details, on the service display. During inactivity, the M26 machine's economizer maintains boiler temperature, energy-saving lights, and reduces consumption. As a result, your operating costs will be reduced. With the Cimbali Economizer, the largest savings will be seen with the M26 smart boiler. During times of inactivity, the smart boiler reduces the boiler temperature to save energy while keeping it ready for your next rush. After being prompted, the smart boiler can return to full operation within 60-90 seconds. In less time than it takes for someone to order a drink, you'll be ready!
Cimbali M26 is not only a solid commercial espresso machine, but it is also easy to use. In order to increase profits and reduce training time, the workflow of any machine is crucial. The longer electromechanical button panel reduces barista fatigue and makes it easier to produce quality drinks back-to-back.
In addition to making multiple drinks at once, the two longer steam arms make it easier to do so. To make quality microfoam, the steam arm needs to extend near the bottom of the pitcher. However, some commercial machines have difficulty reaching the bottom of large pitchers. Even the largest steam pitchers can be reached by the longer steam arms on the M26 machine. Multiple lattes, cappuccinos, etc. can be steamed much faster this way. Hence, the La Cimbali M26 TE tall cup is even better suited to the to-go service offered by cafes and restaurants.
Volumetric controls on any espresso machine make it nearly automatic. Automatic brewing controls are activated when the user presses one of the buttons above the group. More importantly, there is consistency no matter who is behind the M26. A barista can choose from four volumetric controls per group and a manual button for those with more experience.
A new design and technology bring new life to the iconic machine of the 1970s. Both the Prestige and Prestige Plus models feature Faema's patented adjustable thermosyphon system, which provides precise and consistent temperatures at each group head.
Both the Compact and full size Tall Cup offer a sleek matte white finish, LED-lit vertical push-button panels, redesigned ergonomic steam wands, and lights on each group for better visibility. Both feature a Tall Cup design with a soft touch portafilter and micrometric spout designs to allow you to accurately and efficiently divide doses into various cup sizes.
The Prestige is a workhorse coffeehouse machine with all the power, durability and precision that professional baristas demand combined with a sleek modern design to elevate your café or bar.
Best picks for high-volume coffee shops
The Black Eagle by Victoria Arduino is not only an espresso machine, but a timeless feat of engineering. Offering unparalleled consistency for demanding professionals, the Black Eagle is the espresso machine for all of those who dedicate their lives to coffee; who study, research, and experiment every day to bring a meaningful coffee experience to the cup.
For those seeking a machine for a specialty coffee shop, a machine that is stable, consistent, volumetric and even gravimetric, then the Black Eagle is perfect for you. In the continuous search for a consistent cup, many baristas experiment with volumetric systems that allow them to obtain a significantly higher quality, repeatable product compared to the manual system. The volumetric version of the Black Eagle perfects this technology like no other machine on the market. Victoria Arduino successfully created a coffee machine for specialty users, making a volumetric model with the greatest temperature stability to help baristas in their daily work.
In the gravimetric version, the weight of the liquid extracted is measured directly in the cup. The data is therefore much more precise and, more importantly, is not affected by other factors, such as the shape of the filter, the tamping force on the coffee, the condition of the showerheads and more. The barista always has full control of each delivery, the quantity in the cup is always programmed and any difference between one delivery and the next is eliminated.
Above the group head there is a display that allows baristas to monitor parameters such as brewing time and weight of the cup. This combined with Gravitech gives baristas the highest level of consistency and control over the coffee brewing process giving maximum precision. T3 technology allows the barista to set three independent temperatures for the brewing group, the water infusion, and the steam. Giving control of the water supply's thermal accuracy that results in temperature stability and ultimately in a perfect espresso.
This machine even "talks" to the barista and shares all of the information provided by the T3 systems. The TFT display gives the barista all data in real time to offer the customer the best espresso. The display for each group shows the barista the temperatures of the steam boilers, the coffee and the group, the delivery time and the amount of liquid in the cup.
The barista has to work safely with a coffee machine designed to ensure maximum comfort. An example of this increased attention to the barista is "Push & Pull", the drive system for the steam nozzle that avoids unnecessary stress on the barista's arms. So the operator will never be too tired to prepare another cappuccino!
Advanced, bold and revolutionary is how Nuova Simonelli describes their latest entry in the commercial espresso machine market. This machine is designed primarily for high volume locations. It's packed with enough technology to get you through even the busiest day of beverage making. First and foremost is the Aurelia Wave Smart Water Technology. For the first time in espresso history this machine can detect basic water parameters and warn the operator when the quality changes. Being that water makes up the mass majority of espresso, this acts as a safeguard for all operators reducing long-term costs.
Nuova Simonelli didn't stop there though, building off the success of the SIS (soft infusion system) they have developed a new Pulse Jet Technology that allows the user to create extraction profiles, all of which can be adjusted with the Remote Control Interface. This interface can control extraction, preparation, dispensing, and cleaning. While also allowing the operator to access hourly, daily, weekly, and monthly statistics.
All of this in combination with a focus on detail, energy consumption and environmental impact. The Aurelia comes in several variations, allowing you to select the perfect model for your business needs.
Need help deciding?
We're here 9AM to 5PM Monday through Saturday to take your calls and emails. You can reach us by calling 866-540-4440, emailing our team at Info@ComisoCoffee.com or visiting our Contact Us page.
Want to learn more?
Check out our latest articles