10 Best Commercial Coffee Grinders for 2023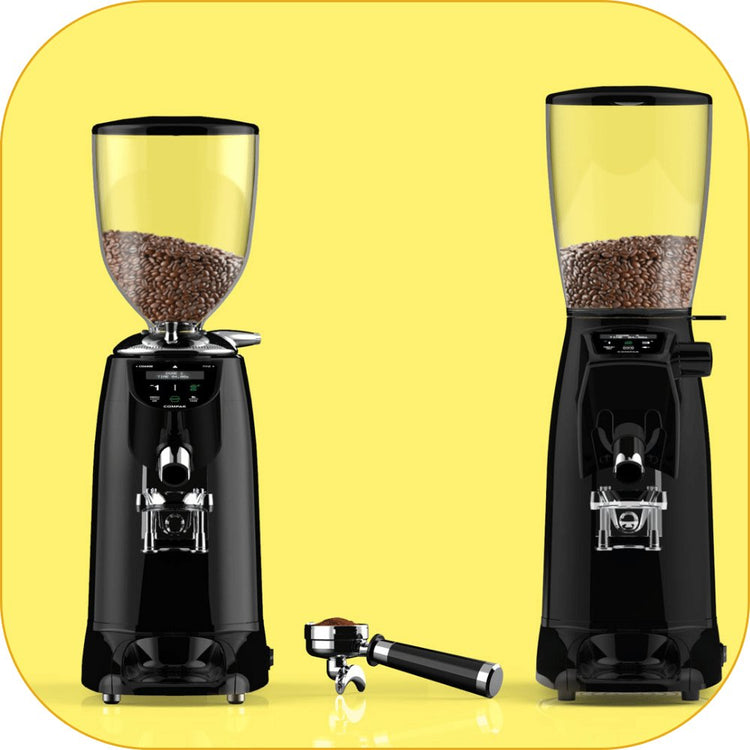 The purchase of equipment is often the most challenging aspect of any coffee business. The decision is extremely important, but not always as straightforward as it should be. Our experience serving thousands of businesses helps us understand how intimidating this choice can be. Therefore, we have compiled a list of our top 10 picks for commercial coffee grinders to help make this choice as smooth as possible.
To make your choice easier, we've broken down our picks into the following sub-categories:
Best pick for low-volume coffee shops.
Best commercial flat burr coffee grinder.
Best commercial conical burr coffee grinder.
Best commercial doser coffee grinder.
Best commercial doserless coffee grinder.
Best low retention coffee grinder.
Best commercial stepless coffee grinder.
Best pick for mid-volume coffee shops.
Best pick for high-volume coffee shops.
Best all-round commercial coffee grinder.
Best Pick for Low-Volume Coffee Shops
Anfim CODY II Coffee Grinder
The CODY II On-Demand Coffee Grinder features 64 mm flat hardened steel burrs, two programmable timed settings with 0.1 s precision, a manual pulsed grinding button, and excellent grind quality for the tastiest espresso. As with the previous Caimano platform, the CODY II features stepless gear adjustment for precise tuning of your grind, and a convenient short 1 lb shut-off hopper up top. The adjustable portafilter forks are easy to set up, and the portafilter button for timed dosing is interruptible, meaning you can grind a bit, groom, then go back to finish up your dose. This is an extremely barista-friendly grinder, with easy-to-use features and great quality in the cup - and the compact size and short hopper also make it an excellent home espresso grinder.
Best Commercial Flat Burr Coffee Grinder
Nuova Simonelli G60 Coffee Grinder
The G60 is Nuova Simonelli's answer for the home coffee enthusiast market. Offering a compact, professional espresso grinder. Built with size in mind, Nuova Simonelli managed to fit a stainless steel 60mm burr set and an extremely powerful commercial motor into this small package. The G60 is an on-demand grinder meaning it can deliver fresh espresso in a matter of seconds. This grinder is ideal for those who are passionate about great coffee and a perfect solution for homes, offices and small coffee shops.
Best Commercial Conical Burr Coffee Grinder
Eureka Olympus Coffee Grinder
The Eureka Olympus lives up to its Grecian name. For easy cleanup, the anti-static coating and adjustable portafilter holder round out the power-geared design. The Eureka Olympus is a dedicated commercial espresso grinder with conical steel burrs. This burr grinder uses a digital timed dosing system, stepless adjustment, and has a hands-free portafilter holder. The 75E models are quipped with 75mm burrs. The KRE models have 68mm burrs and have a lower RPM, which helps it operate at lower temperatures.
Best Commercial Doser Coffee Grinder
Ceado E37S Coffee Grinder
Getting your grinder just right is essential to the success of any espresso prep, whether you are a professional or a home user. Ceado has pioneered the patented infinitesimal grinding adjustment which makes determining the exact particle size for each brew method even easier. Using the quick set revolution on your E37 grinder makes grinding incredibly easy, faster, and more accurate.
With the Quick Set Gear Tech, CEADO has merged its R&D expertise with the industrial design by EMO and new tech materials. The new system is even stronger, more efficient and more precise than the current Quick Set Gear. You can find this technology on most Ceado brand on-demand grinder models, like the E37S, SL, T and K.
Best Commercial Doserless Coffee Grinder
Compak E8 Coffee Grinder
The Compak E8 Coffee Grinder performs among the best in its class. Compak was founded in 1952 by Jesus Ascaso with the goal of producing a coffee grinder that was functional, simplistic, and built to perfection. Since then, Compak has continued to produce high-quality coffee grinders that are ahead of their time. Compak has collaborated with some of the most prestigious designers in the world to create coffee grinders that are not only functional but also extremely attractive. Some of the world's best hotels, restaurants, and coffee shops use Compak grinders.

Using a very simple and intuitive method, you can set the grinding point with maximum precision. With the new Parallel locking system, burrs are always positioned parallel between each other. With cold grinding at low revolutions, it is possible to maintain all the properties of coffee even in high demand situations. Provides total control to the Barista without needing to use the grinder's electronic system.
Best Low Retention Coffee Grinder
Mahlkonig E65S Coffee Grinder
The E65S is the perfect synergy of proven premium espresso grinding technology and pioneering features, designed to meet the modern demands of coffee professionals around the globe. "The King of Grinders" has equipped the new model with a multifunctional push-& turn button, an innovative icon menu and presets for up to 6 individually programmable recipes. The modern slim body with a cutting-edge multi-color design features first class components and coatings for a premium look and feel. But its design pleases more than just the eye: the E65S produces the most pleasant and silent grinding, while its overall construction is robust and well prepared to sustain high workloads. The perfect choice for coffee shops and restaurants.

Made of special steel to improve longevity, these grinding discs produce a consistent, uniform grind. They'll last longer than average and help you make richly flavored espresso.

Making sure that the grinding environment is always cool, the fan system preserves the flavor and quality of the coffee. As the fan system only runs when the motor is active, the E65S conserves energy. These upgrades allow the grinder to run without overheating. The motor holds almost no heat, supporting the temperature control system that protects your coffee from taking on burned, bitter flavors.
Best Pick For Mid-volume Coffee Shops
Ceado E37T Coffee Grinder
Titanium-coated burrs on the Ceado E37T extend the life of your grinder. They're also stronger, which means you'll be able to use them longer and grind more coffee with them. In simple terms, the stronger, sharper your burrs run, the less work they have to do, which means that your coffee won't heat up as much, which is one of the greatest compromises.

A temperature control system is integrated into the Ceado E37T. When necessary, the fan automatically kicks in. An amazing feature for the price. If a grinder has a fan, it's either constantly running waiting to burn out or it's only on when you're grinding.

With Ceado's steady lock grinding system, your burr grinder will always maintain a constant distance between its burrs under any condition. Your quest for the perfect espresso is made easier with the steady lock system, which eliminates just another variable.

Ceado pioneered the concept of the infinitesimal grinding adjustment, which makes it even easier to get the exact particle size for each brew method. The quick set revolution on the E37 grinder makes it incredibly easy, faster, and more accurate to grind.

E37 family grinders are extremely easy to maintain. Maintenance on your Ceado is easy because of the quick service and anti-clogging system. By using easy access burrs, you can clean and maintain your equipment with less effort and for less money.

No need to change the grind setting after clearing the burrs. No need to re-calibrate the grinder. The grinder's grinding chamber can be accessed by loosening three Phillips head screws on the top.

Regardless of what portafilter you have, including bottomless/naked models, the standard portafilter fork keeps your hands free. While you perform other steps in your brewing process, the coffee doses can be ground straight into the filter holder.

There are three timed dosing settings available on the Ceado E37T, which is super convenient if you change coffees frequently or have different recipes or drink sizes to accommodate. Maintain greater consistency with Ceado E37T and never guess again on your dosing!
Best Commercial Stepless Coffee Grinder
Mazzer Super Jolly Coffee Grinder
Specifically the Super Jolly V Pro, which combines new technology from the Mazzer V line and provides baristas with premium quality, precision, and maximum control during grinding.
With its new 64mm flat burrs, manufactured in the company's Venice factory, the Super Jolly V Pro Electronic is designed for greater productivity throughout a wider range of adjustability than the Super Jolly. The V Pro also allows cleaning burrs without affecting the grind setting. The Super Jolly V Pro model also offers lower overall grind retention. A newly adjustable portafilter holder includes a grind activation button.

V Pro also features the company's "memory track" settings collar, which has been introduced on other models in recent years, allowing users to continue to index the grind settings, placing the zero at the point where the burrs touch (which naturally shifts over time as the burrs break-in).

A dual-fan cooling system keeps the grinder's parts and coffee cooler, and a new digital display provides settings, usage stats, notifications, and optional connectivity with a smartphone app.

Get uniform coffee grounds in your portafilter while keeping grounds from getting on the counter with the innovative GFC System. The GFC system consists of a removable aluminum outlet insert equipped with three interchangeable wire dampers. Choose the best wire damper for you according to the coffee origin, roast profile, weather conditions, or barista preferences.
Best Pick For High-volume Coffee Shops
Victoria Arduino Mythos Two Coffee Grinder
An on-demand grinder dedicated to coffee specialists and enthusiasts alike. Featuring a host of features like micrometric grind adjustment allowing the user to adjust the grind to the smallest of adjustments at any point in the process of grinding. Clump crusher tech ensures that every dose is clump free and delivers evenly distributed coffee. Most of these features can be adjusted via the multi-function LCD display.
The Mythos Two is Victoria Arduino's second grinder in the Mythos line. Capable of doing ground coffee with extreme accuracy by using its actual weight. This is done by using their gravimetric system, ensuring consistent density. This means the dose remains unchanged even if you change the granulometry setting (grind).

The updated Clima Pro 2.0 system now allows the barista to adjust the burr temperatures, thus expanding barista's range of choice. In addition to keeping the temperature consistent in the grinding chamber, the Mythos 2 is now more stable, reducing unwanted fluctuations of temperature, leading to a more efficient workplace.

Lastly the Mythos 2 now has a variable speed motor which is able to modulate productivity according to the barista's needs and allows for more accurate dosing.
Best All-round Commercial Coffee Grinder
Mazzer Robur S Coffee Grinder
Mazzer Robur electronic is the ideal coffee grinder for just about any coffee shop. Over the previous model, retention has been reduced by 52% in the Mazzer Robur S. The result is fresher coffee and less waste. Mazzer's complete design of the Robur S grinding chamber and lower burr carrier has resulted in one of the most significant improvements made to the Robur in recent years.

In addition, the Robur S has an incredibly easy-to-clean design of the lower burr carrier. Newly designed lower burr carriers make cleaning the Mazzer Robur S a breeze. Never lose your grind setting while cleaning, as the upper burr remains stationary while the lower burr adjusts.

Grind Flow Control System (GFC) reduces clumps, distributes particle sizes, and reduces mess on your counter. Three interchangeable wire dampers are included in the GFC System. Robur is available with three dampers for a hybrid solution, anti-clumping, and anti-dust. Mazzer Robur S comes with the most versatile wire damper that can accommodate most coffee origins, roast profiles, weather conditions, or barista preferences.

The Robur S has two fans for cooling. To preserve the flavor and aroma of your coffee, it is essential to maintain a low internal temperature even when grinding in a high-volume coffee shop. During the grinding cycle or dose, the Mazzer Robur S's first fan is fixed directly to its 800 Watt motor allowing for continuous cooling. A second low-voltage fan at the back of the body of the grinder spins for 30 seconds after you have finished your dose to maintain internal temperature to prevent fluctuations harmful to the subtlest nuances of your coffee.

A nice addition to the Mazzer Robur S' programming is the barista pause feature. Programming is similar to the Mazzer Robur E's. A barista pause allows for a scheduled break during dosing. The portafilter must be inserted, the desired dose must be selected, the grinding will pause at the preprogrammed time, press the same desired dose again, and the grind will continue.
Need Help Deciding?
We're here 9AM to 5PM Monday through Saturday to take your calls and emails. You can reach us by calling 866-540-4440, emailing our team at Info@ComisoCoffee.com or visiting our Contact Us page.
Want to learn more?
Check out our latest articles